Post-Graduation Work Permit Program (PGWPP)
The Post- Graduation Work Permit program is designed by the Canada government to allow international students, after their graduation from eligible course/ courses, to work and gain valuable experience in Canada. International students must take this opportunity to get experience in Canada if their ultimate goals are permanent residency in Canada, as many of the permanent visa programs require local experience.
About this permit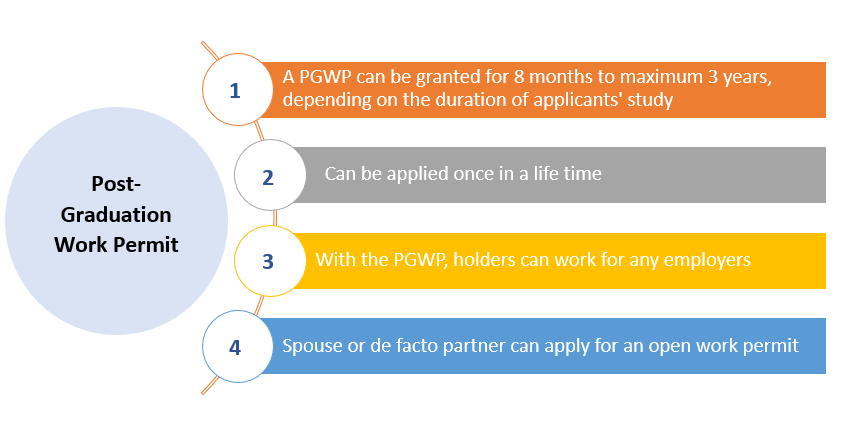 Eligibility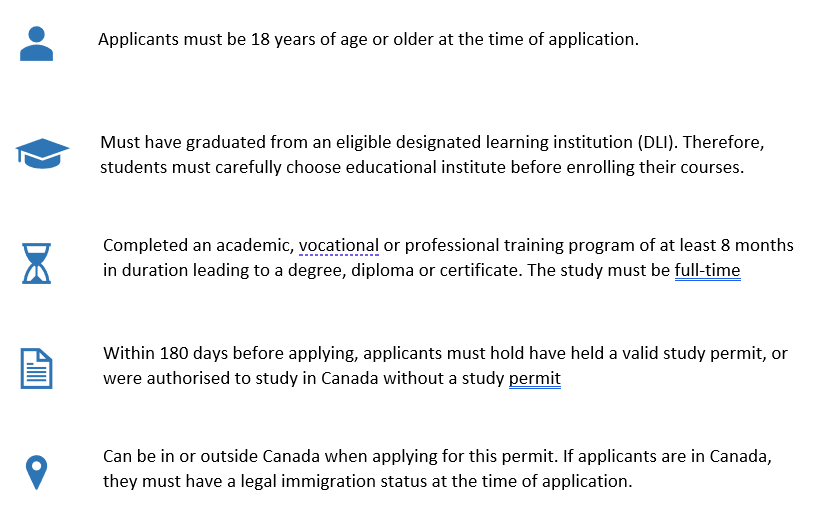 Eligible institutions for PGWP program
The applicant must provide evidence that the program or programs of study were taken in Canada at one of the following eligible Canadian designated learning institutions (DLIs):
a public post-secondary institution, such as

a college
a trade or technical school
a university
CEGEP (in Quebec)

a private post-secondary institution that operates under the same rules and regulations as public institutions in Quebec
a private secondary or post-secondary institution in Quebec offering qualifying programs of 900 hours or longer leading to

a diploma of vocational studies (DVS)
an attestation of vocational specialization (AVS)

a Canadian, private institution authorized by provincial statute to confer degrees, such as an associate, bachelor's, master's or doctoral degree, but only if the student is enrolled in a program of study leading to a degree, as authorized by the province, which may not include all programs of study offered by the private institution.
Processing time
It normally takes 80 to 180 days to process the applications. However, while waiting for your PGWP to be granted, you can work full time in Canada, as long as you applied for this permit before the expiry date of your previous study permit.