Canada is a country that welcome relatives of its citizens or permanent residents to reunite. You can sponsor certain relatives to come to Canada if you're at least 18 years old and a:
Your relatives can live, study and work in Canada if they become permanent residents of Canada.
There are several types of family visas for you to choose from, depending on who you would like to sponsor.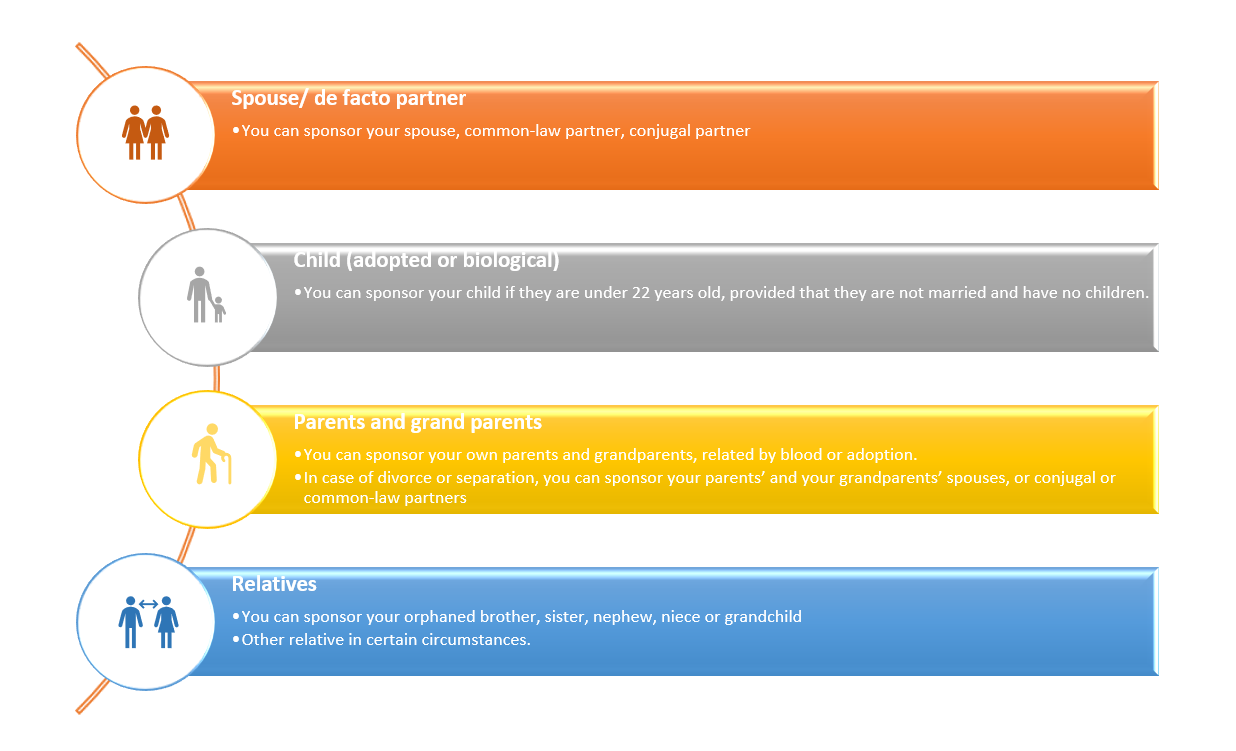 Spouse/ de factor partner
You can sponsor your spouse, partners to become permanent residents of Canada. If you sponsor them, you must be able to:
Support them financially.
Make sure they do not need social assistance from the government.
Canada recognize common-law partners. It means that you do not need to legally marry to your partner to sponsor him/her. You might meet the requirements of common-law partner or conjugal partner.
When applying for this visa, your spouse/partner can apply for an open work permit (if you are applying from onshore) to work in Canada while waiting for this approval. The processing time is currently 12 months.
Child (Adopted or biological)
When applying for a visa for yourself, you may generally include your dependent child to your application. However, if by some reasons you were unable to do so, you can sponsor them later and they can apply for permanent residency.
Your child needs to be under 22 years old, unmarried and does not have any children for their own to be eligible for this type of visa.
Parents and Grandparents
You may sponsor your parents and grandparents to become permanent residents of Canada if you meet the income requirements for the last three years immediately prior to the time of application. This income requirements depends on how many people you are responsible for, including you family members who you are not sponsoring. You can look at the below table for your reference
| | | | |
| --- | --- | --- | --- |
| Total number of people you'll be responsible for | 2020 | 2019 | 2018 |
| 2 | $32,270 | $41,007 | $40,379 |
| 3 | $39,672 | $50,414 | $49,641 |
| 4 | $48,167 | $61,209 | $60,271 |
| 5 | $54,630 | $69,423 | $68,358 |
| 6 | $61,613 | $78,296 | $77,095 |
| 7 | $68,598 | $87,172 | $85,835 |
| If more than 7 people, for each additional person, add: | $6,985 | $8,876 | $8,740 |
The currently processing time for this visa is 20 to 24 months.
Relatives
You can sponsor an orphaned brother, sister, nephew, niece or grandchild only if they meet all of these conditions:
they're related to you by blood or adoption
both their mother and father passed away
they're under 18 years of age
they're single (not married or in a common-law or conjugal relationship)
Other relatives
You may sponsor one relative, related by blood or adoption, of any age, if you don't have a living relative you could sponsor instead; and you (the potential sponsor) don't have any relatives (aunt or uncle or any of the relatives listed above), who is a Canadian citizen, permanent resident, registered Indian under the Indian Act.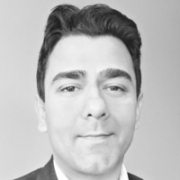 Kunal Thakur
Regulated Canadian Immigration Consultant R#519955
Kunal Thakur is a passionate Regulated Canadian Immigration Consultant (RCIC), holding close to two decades of immigration experience, during which he has successfully guided thousands of immigrants in their immigration journey. He is quick in responding to client queries and would always give his clients the right advice. Kunal also brings immense value in all his talks and discourses on immigration and when not in front of his laptop reading and analysing client cases he could be seen exploring new places and trying new things. Kunal is currently based in Adelaide, Australia. You can book a time with him here.
RCIC: R519955