Canada Business Immigration
Our partners offer Canadian migration services to applicants wanting to travel, study, work or immigrate to Canada, apply for citizenship, a permanent resident card or do business in Canada.
Our Canadian partner is licenced with the Immigration Consultants of Canada Regulatory Council to provide Canadian migration advice. You can review your immigration and visa options to Canada by making a booking below.
We also have here a list of Canadian visa and Immigration services offered to Australian citizens. Get Canadian immigration expert advice!
If you are looking for a Regulated Immigration Consultant for Canada in Melbourne look no further.
[WEBINAR] May 15th: Owner Operator LMIA Express Webinar (Saudi/UAE) Edition
Promises Made. Promises Delivered. Join Canada Immigration and Visa Services (CIVS) and Canoscope on Friday May 15th 19:30 Dubai Time (15:30 UTC) to attend our webinar about the Owner Operator LMIA Pathway for you and your family to resettle in Canada by starting or purchasing a business. A webinar reservation and ticket includes a copy of our Owner Operator LMIA Guidebook and the price paid for a webinar ticket will be discounted from further services if CIVS –  Canoscope is retained for immigration services in the future. 5 months ago, and before COVID-19, we held our last seminar in person in Dubai. The clients we retained from that seminar who have started or purchased a business have since achieved status in Canada. The Owner Operator LMIA Pathway when executed correctly can result in permanent residency status for the primary applicant and their family in under 12 months. When: May 15th, 2020
19:30 (Dubai)
15:30 UTC (Universal Coordinated Time)
09:30 Mountain Time (Calgary)
08:30 Pacific Time (Vancouver)
This package includes a 1 hour consultation with Nikola Misina to find an LMIA pathway for you and your family. A "Work to Immigrate" pathway. In addition, you will receive a digital copy of our publication, "How to Find LMIA in Canada Guidebook."
This guidebook is a valuable resource for anyone wishing to pursue a "Work To Immigrate" pathway in Canada with a sponsored job and positive LMIA.
 Canada Immigration and Visa Services (CIVS) takes pride in assisting our clients to come to Canada permanently through the Labour Market Impact Assessment (LMIA) program for Permanent Residence. Mr. Nikola Misina is considered one of Canada's leading professionals for his hands-on assistance to newcomers using the PR LMIA program. Mr. Misina and his colleagues at Canada Immigration and Visa Services are recognized by their valued clients for being professional, ethical, hardworking advocates who get the job done. While it is true that the internet is populated with promises for easy employment in Canada, the truth is that immigrating to Canada through an LMIA employment program can be highly complicated, and having a professional representative can make a difference for insuring all the bases are covered. The success case stories and Internet case stories found on Google are testimonials to the dedication and hard work that our team brings to each and every client case. We hope that you will find this publication to be an informative resource book as your first step in making plans to come to Canada under the PR LMIA program. Please see below, testimonials from clients that have been assisted by Canada Immigration and Visa Services and Nikola Misina.
This diamond platinum digital package includes everything from CIVS resources and all you need for guidance on submitting an Owner Operator LMIA application. Included in this digital document are the following documents:
Owner Operator LMIA Guidebook and Internal Service Canada Government document compendium annotated and earmarked by CIVS regarding the Temporary Foreign Worker Program in the context of an Owner Operator LMIA 

(1466 pages)

3 Successful Owner Operator LMIA Business Plan Samples

Logistics Franchise
Paper Trading Company
IT Services Company

1 Complete Owner Operator LMIA submission for a Convenience Store chain 

(500+ pages)
The ICT Program was designed by the Government of Canada to allow foreign nationals to work in Canada without an LMIA to establish or launch the Canadian operations of an existing international company. The work permit granted for an Intra Company Transferee applicant is LMIA-exempt and falls under exemption code C-12. The program was not designed as a pathway to permanent residency, but depending on the circumstances, there may be a pathway for individuals and their families to immigrate permanently after being issued a work permit as an ICT. Once you receive a work permit, your spouse automatically is eligible for an open work permit, where they can work anywhere in Canada. Yourself, as well as your children or dependents, will be eligible for free healthcare, subsidized education, and many of the other benefits Canadians enjoy. A pathway to Permanent Residency is more common after having gained the work experience necessary to apply for the appropriate immigration stream or if other circumstances change, such as your spouse obtaining skilled work experience in Canada on an open work permit or improvement of your language skills, etc. This guidebook focuses on the process for eligible candidates to secure a work permit and visa using this pathway.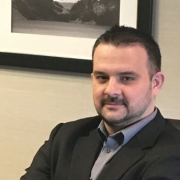 Nikola Misina
Regulated Canadian Immigration Consultant R#524218
Nikola is a Regulated Canadian Immigration Consultant, based in Calgary, Canada. He is experienced in international selection and hiring in the USA and Canada, human resources development and determining the optimum corporate structure. Nikola assists our Canadian clients achieve their immigration goals.
His goal is to be outstanding advocate for his clients through applying his complex knowledge of the process to helping clients meet their immigration objectives.  He specialises in business visas and startup visas in Canada.
Nikola is considered as a specialist in fields of Temporary Work (LMIA or LMIA exempt), Business Visa Permits, PNP Programs and Family Sponsorship streams.
Nikola's life history compliments his insight into assisting clients with solutions to their Canadian immigration and citizenship needs.