Atlantic Immigration Pilot (AIPP)
The pilot, launched in 2017, helps employers in Atlantic Canada hire foreign skilled workers who want to immigrate to Atlantic Canada and international graduates who want to stay in Atlantic Canada after they graduate. Due to its success, the government has committed to making this pilot a permanent program. It will continue to be a flagship regional economic immigration program, complementing the provincial nominee programs in each Atlantic province.
Atlantic provinces include New Brunswick, Newfoundland and Labrador, Nova Scotia, and Prince Edward Island.

This is an employer-driven program designed to help employers in Atlantic Canada hire qualified candidates for jobs they have been unable to fill locally. This means that a compulsory requirement is that you need to have a job offer from a designated employer in order to apply for this pilot program. If you receive a job offer from an employer:
ask for a copy of the employer's Confirmation of Designation, or
tell them about the Atlantic Immigration Pilot and ask them to consider becoming designated, if they aren't already.
Pilot requirements
There are 3 programs in the pilot that employers can hire you through. You may qualify for more than 1 program, but you can only apply through 1.
For all 3 programs, you have to show proof that you meet the language, education and work experience requirements and that you have enough money to support you and your family when you come to Canada.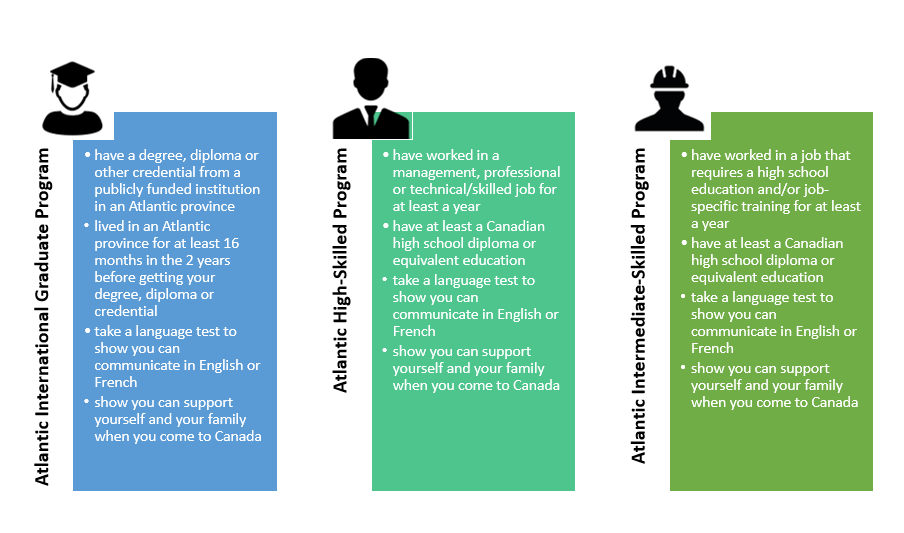 Get a Job Offer
To see a list of designated employers participating in the pilot, check the provincial websites:
New Brunswick

Newfoundland and Labrador

Nova Scotia
When a designated employer offers you a job, they'll give you an Offer of Employment to a Foreign National form. You must:
make sure you meet the employment requirements listed in the National Occupational Classification

Your job offer doesn't need to be in the same field as other jobs you've had.

make sure you qualify for the program the employer selected in the job offer – High-skilled, Intermediate-skilled or International Graduate Program
sign the Offer of Employment to a Foreign National form and keep a copy for your records

You'll need it when you work with a service provider organization on your settlement plan and for your permanent residence application.
Application Process and Fee
The current processing time for this program is 6 months, and application fee is from CAD $1,325.