Canada Employer Obligations
&

Responsibilities
A business that employs international skilled workers have specific obligations to adhere and uphold to ensure adequate working conditions.
General Overview
As a general overview, employers must uphold the following obligations and responsibilities in relation to temporary foreign workers: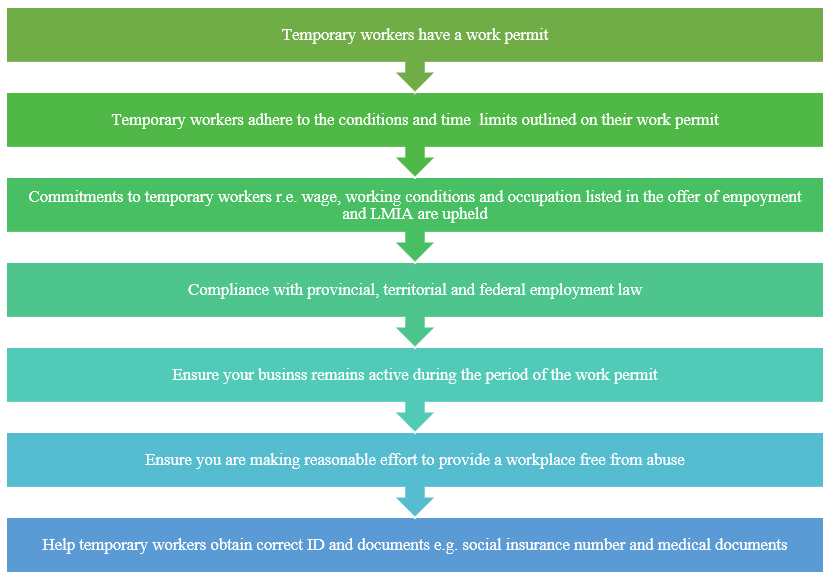 Specific Obligations and Responsibilities of Employers
A more detailed description of an employer's obligations and responsibilities is below.
As an employer, you must uphold the following obligations:
Meet the requirements of:

Employer-specific work permit
Labour Market Impact Assessment (LMIA)
Offer of employment
Immigration and Refugee Protection Regulations (IRPR)

Keep all relevant records for 6 years from the date of issue of the work permit, including:

Documents related to the LMIA
Documents related to the conditions set out in the IRPR
Conditions outlined the LMIA decision letter and annexes

Inform the Canadian Government at the Employer Contact Centre of:

Any changes or errors with an approved LMIA
Changes in TFW working conditions

Address any compliance issues and voluntarily notify
As an employer, you also need to ensure you remain responsible for:
Confirm the details on the foreign workers work permit and remain aware of the expiry date
Set up medical insurance and workers' compensation benefits for when foreign workers arrive in Canada
Ensure the workplace is free from physical, sexual, psychological, and financial abuse
Providing evidence of meeting employment conditions and cooperating with any government inspections
Maintaining COVID-19 safety by allowing employees to follow quarantine requirements, comply with any laws relating to COVID-19 and pay the foreign worker for any period they are in mandatory isolation or quarantine even if the worker is unable to perform their duties
Failure to Comply
If employers fail to comply with the above conditions and responsibilities, they may face the following penalties:
Warning
Penalties up to $100,000 per violation, to a maximum of $1 million per year
Permanent ban from the TWFP and IMP for most serious violations
Publication of business name and address on the IRCC website with the details of violations
Suspension or revocation of previously issued LMIAs
If you are in the process of hiring an international skilled worker, you can refer them to the Canadian Government website which contains the list of employers who were found non-compliant. This website will allow them to check that your business has maintained compliance standards.
How VisaEnvoy Can Assist You
At Visa Envoy we assist you with the complicated process of hiring foreign workers and ensure that you are aware of all your employer obligations and responsibilities. This service forms part of our Global Mobility Services that allows your business to hire foreign skilled workers and utilize an international workforce.